Today we are Getting To Know.................................
...........................Kerryn!!
1. When did you first start scrapbooking and how did you get into it?
I first started scrapping in 2004 after my son was born. My Mum had started an album while we were still in hospital, which I just adored.
My first project was a memory album for my daughter, which I still add to.
In early 2007 I joined my first forum and haven't looked back since.
2. Looking back into your creations is there one you really dislike and would you change it or leave it?
I would never change any pages; they are all apart of my journey. How could you see how far you have come, if you don't keep where you started?
3. What does scrapbooking mean to you?
Where do I start, after loosing a child, you realize how precious ever single moment in life is and for me it is about capturing the smaller things.
I want to remember the faces Harry pulled at the age of three, the mess he made trying to give himself his medicine and the fun we had under the sprinkler. The big events get scrapped, but just don't stand out as much.
Scrapping is "MY" time to sit quietly and create; it keeps my brain ticking over and allows me to express myself better than I ever could.
4. What is your can't live without scrapping tool?
My Basic Grey Precision Mat would be on top of my list and my guillotine would be right next to it.
5. When beginning a layout are you the kind of person who has to work of a sketch or you can throw anything together and it all works?
I don't use sketches unless it is part of a challenge or contest, I am definitely thrower and it usually works for me.
6. How did you find Scrapdango and what do you like most about it?
I came across it when scanning Pubcalls; I joined up for the crowned contest and have stayed around. I love the different people on the site, the fabulous kits and the general day to day chatter.
7. Show us a couple of your favorite layouts. What makes them a fav?
Here are 2 of my all time favourites, Beautiful was created for a song contest, and I loved how this turned out, especially the photo. Funny though, I have submitted it to a few mags and all have rejected it, just goes to show.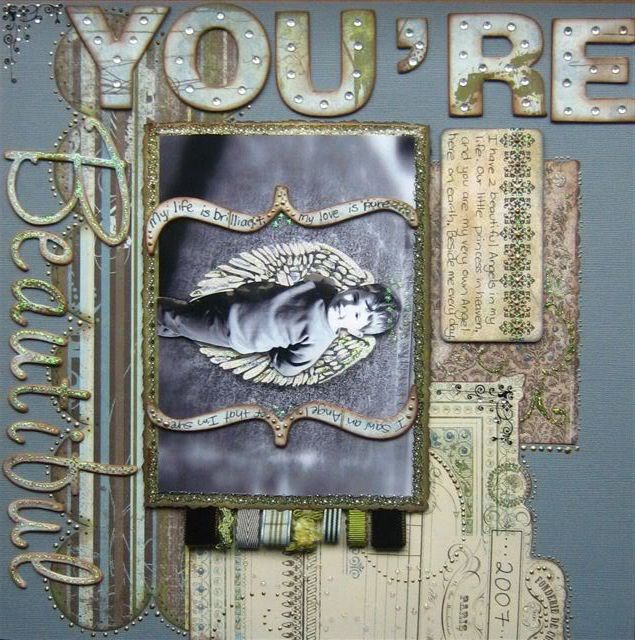 Pieces of Me
allowed me to focus on the parts of me that I can live with LOL!! Loved working with these papers.
I am so glad that you decided to try out for the Design Team here at Scrapdango!! I love your work and enjoy having you on the board!!
Thanks for letting us Get To Know You Kerryn !!
~Tara~