Hey all, I cannot believe that it is almost September. Seriously, where has the summer and the year gone?!? I'm actually looking forward to the fall season I have to admit. Around here in the Pacific Northwest, autumn is usually one of our best seasons--warm days with cool, crisp mornings and evenings, beautiful foliage and kids going back to school. I love my kids, but I also love when they go back to school. Shhh, don't tell them. Life doesn't really slow down, but we seem to settle into some kind of normalcy that is comforting to me and very hard to come by in the summer.
I also hope that my scrapbooking can settle into some kind of normalcy because it has been far from it this whole summer and even past spring. I'm really hoping my mojo returns. And what better way to get that mojo to return then with a month long contest with some awesome challenges. Well we have just that coming in about a week at Scrapdango. We hope that you all will join us for the 2nd annual "School's In" contest. We had so much fun doing this last year, that we thought we'd do it again. Here is all the info and be sure to join us in the
message board
and get signed up. It is going to be so much fun, and you might even learn something. You don't want to miss it.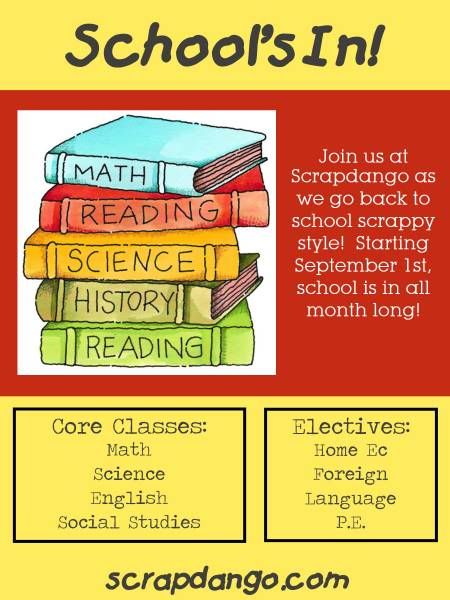 And speaking of September, I also have sneak peeks of the kits coming in September. The sugar kit is something totally different from what I normally go for, but when I saw it, I really liked it, and I hope you will to.
Sept. Sugar Sneak
The spice kit is from one of my all-time favorite paper manufacturers, and they never disappoint. This kit uses my favorite color combo and just has so much luciousness. I think you will love this one too.
Sept. Spice Sneak
We've got lots of great things coming for September and into fall, so be sure to stay tuned and we hope to see you all on the boards.
Have a Happy Scrappy Day!!!