It is time to spotlight some more Scrapdango girls. Tonight I wanted to spotlight Jennifer (pebblesjns).
As most of you know she won a position as one of April's Guest Designer's and we loved having her with us! Let me intoduce to you.... Jennifer.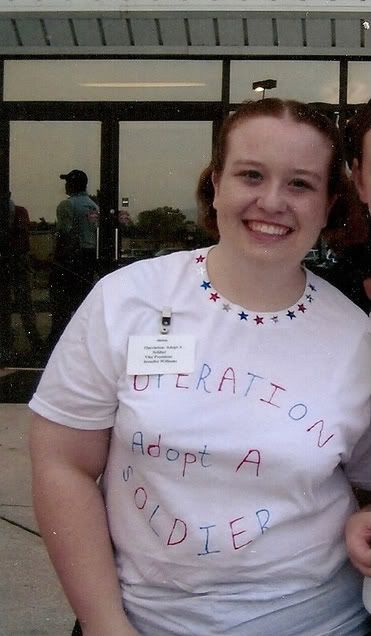 1. How long have you been scrapbooking? Since June 2007 - about 11 months now
2.Describe your scrapbooking style? clean and simple
3.What are your favourite manufacturers? Imaginisce, Doodlebug, Bazzill
4.What are your favourite scrapbooking magazines? Scrapbooks, Etc. and Creating Keepsakes
5.Do you have any scrapbooking goals for 2008? my major goal was to complete my honeymoon album and it is now done, so no other goals yet!
6.Do you attend crops or prefer to scrapbook alone? I get more done alone, but I like to go to crops for the company and conversation!
7.What do you listen to when you scrap? The playlist on my computer, which is the same as on my MP3 player...a little bit of country, pop, rock, everything really
8.What are your favorite foods and drinks? Favorite drink is Cherry 7-Up, which I haven't had in forever...and favorite food is lasagna
9.Do you have any pet peeves? They usually deal with driving (going too slow, not using a turn signal or leaving it on after you've turned, etc.)
10.What do you find do you scrap the most? vacations are always fun because I'm able to relive the memories through the pictures and my journaling
11.Any scrapbooking trends you like? glitter/bling, sheer things, handwritten journaling, flowers, penguins Don't like? Chandelliers and things that just don't fit on my page
12.What is your favorite color to scrap with? anything bright or girlie
Here are a few of Jennifer's favorite layouts:
We:
Gulf Shores:
Fun At The Farm:
You can see more of Jennifer's work in her
Scrapdango Gallery
.
Thanks so much Jennifer for allowing me to spotlight you on the blog and for all your hardwork during the crop and as a featured Dango DT!!
~Tara~