Howdie Dango Girls. I have another challenge for you to do. This one is alot of fun and I love doing these. I hope you will too.
Spring Layout Bingo
: Below is a Bingo Card. You are to complete a layout using any elements that would make a straight line. It doesn't matter which way the line is going as long as you use all 4 elements in that line. Just like making a line on a regular bingo card only you will have a beautiful layout once you're done.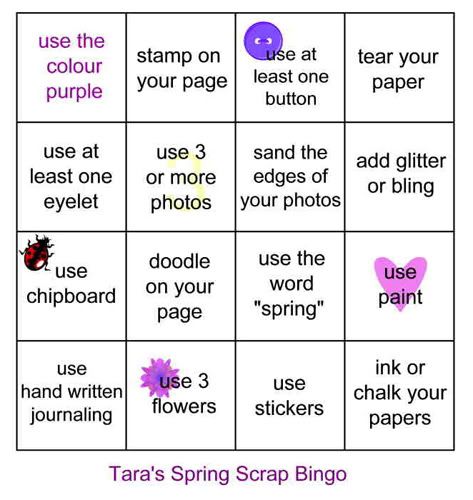 Everyone who participates and creates a layout will earn a ballot for the blog prize draw. The first draw is on April 15th. You recieve a ballot for every tip, technique, and challenge you complete!! There are so many chances to win. Keep checking the blog for extra ways to win!
Please email your creations to:
thynner5@yahoo.ca
or post a link on the blog.
Have fun!!
~Tara~