It's time to challenge you once again. Since the weekend is just about upon us I thought I would make it an easy one. I would like you to think of one word, any word. Then I want you to go to:
Dictionary
or
Merriam-Webster
and do a definition search. I would like to see your word and your definition on your next creation.
Here is a layout I did for Lucy Chesna's
Sketchworld
Blog. I used the April Sketch. My word was:
Concentration:
1. The act of concentrating;
2. Exclusive attention to one object;
close mental application.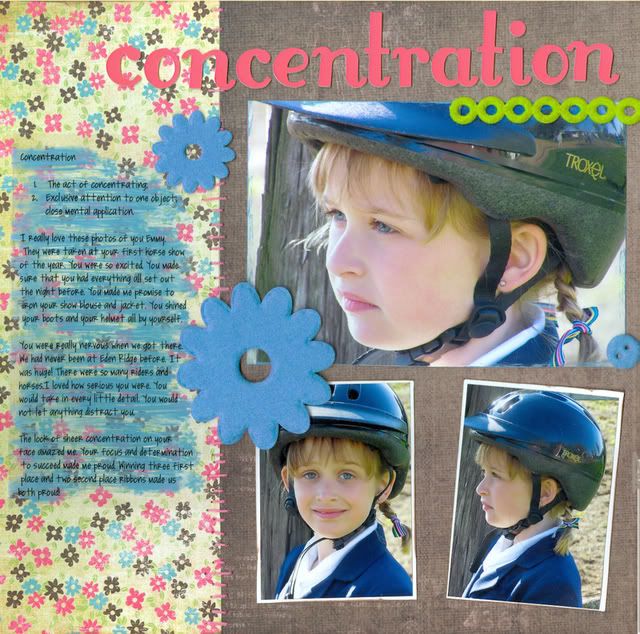 Journaling reads: "I really love these photos of you Emmy.
They were taken at your first horse show
of the year. You were so excited. You made
sure that you had everything all set out
the night before. You made me promise to
iron your show blouse and jacket. You shined
your boots and your helmet all by yourself.

You were really nervous when we got there.
We had never been at Eden Ridge before. It
was huge! There were so many riders and
horses.I loved how serious you were. You
would take in every little detail. You would
not let anything distract you.

The look of sheer concentration on your
face amazed me. Your focus and determination
to succeed made me proud. Winning three first
place and two second place ribbons made us
both proud!"
I would love to see what you can create for this challenge. Please email me at: thynner5@yahoo.ca and put "Dango Blog Challenge" in the subject line. Everyone who does will earn a ballot for this month's blog draw!!
Keep and eye out over the weekend for another chance to win!
~Tara~