I always want to hoard my kit when I get it or worry that I will run out of one of the papers before I get to the end of the kit. To help stretch my kit, I usually cut out large blocks of paper that are hidden behind other items. For instance, if you are using pattern paper as your background and are layering other papers and photos onto it you can easily cut out the background paper that isn't showing.
Compose your layout by laying your photos, mats, other layers of pattern paper, embellishments, etc. onto the background paper. Then, lift up the corner of your layers and mark with a pencil where you can cut…this photo should make it easier to understand.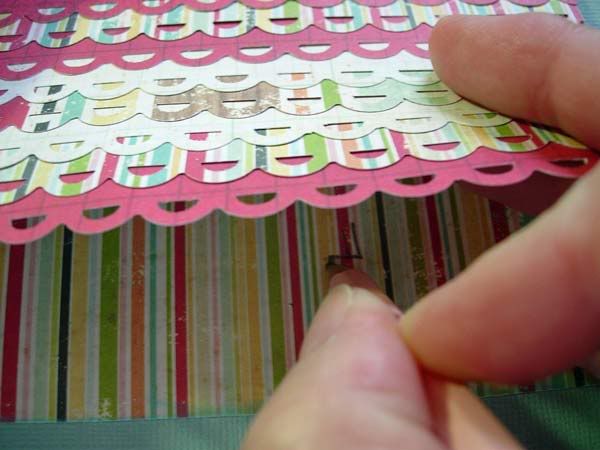 Once you have marked the four corners cut out the paper with your trimmer or scissors and save the large center piece for other layouts or cards. This is what the background will look like once you are done (you can see some of my pecil marks just outside the cut lines).
And the finished layout.
This idea is from Laura using the June Spice Kit.
I love the Websters Pages but I didn't have two sheets of the paper and I really wanted to fussy cut the lighthouse....so I used a piece of the coordinating cardstock and very carefully cut out the lighthouse. I adhered both parts of the paper to the cardstock using 3D foam dots to raise the lighthouse.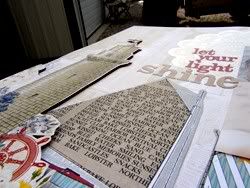 These techniques not only let you stretch a kit, they also stretch your scrapping budget….something us scrappers are always trying to do.